The process of procuring a project with an artist can be more complex than you would think. Even the simple act of delivering an invitation can be quite an undertaking.  In 1996, when Pam and I formed our partnership, we drew up a list of artists we wished to publish and Caio Fonseca was high on that list.
Around this time Caio was on the cover of Modern Painters. A handsome young man seated in front of an impressive blue and white canvas, his gaze directed away from the viewer.  The article spoke of Fonseca's love of classical music, his ability to play the piano and his multilingual background.   Evident in his lyrical abstractions is his Latin influence.
At that time we had worked mainly with California artists.  As we set out to find a way to connect with Fonseca, we sought assistance from our colleague Betsy Senior.   Betsy had previously worked at Experimental Workshop in San Francisco but had gone on to open a gallery in New York on West Broadway in Soho. Betsy introduced us to a friend of hers who worked with Caio's gallery at the time.  Three months later Pam and I were standing in Caio's New York studio.
Pam and I were new to the experience of visiting an artist's studio. I was completely overdressed. I had on a black skirt, nylons and heels, impossible for navigating the streets of New York.  Caio was dressed in comfortable clothes, wearing black jeans with a patina of paint splatter. His studio was romantic in the archetypal artist-studio way, as well as  rustic. In one corner was a grand piano.  As I tried not to squirm with discomfort and cursing my shoes, Caio put us at ease. Between his questions about printmaking Caio peppered the conversation with a hilarious pantomime of flipping open his leather wallet as if to answer a cell phone call. Cell phones were just hitting the market then, and Caio's simulated cell phone ring and ensuing conversation had us laughing. After we managed to work out the dates for our first project, Caio offered us a cup of a "healthy green drink" and a Bach invention.  We moved to the grand piano, and Caio played several Bach fuges and a Mozart sonata.  I was transported to my youth, having grown up listening to my father play those same pieces on his grand piano.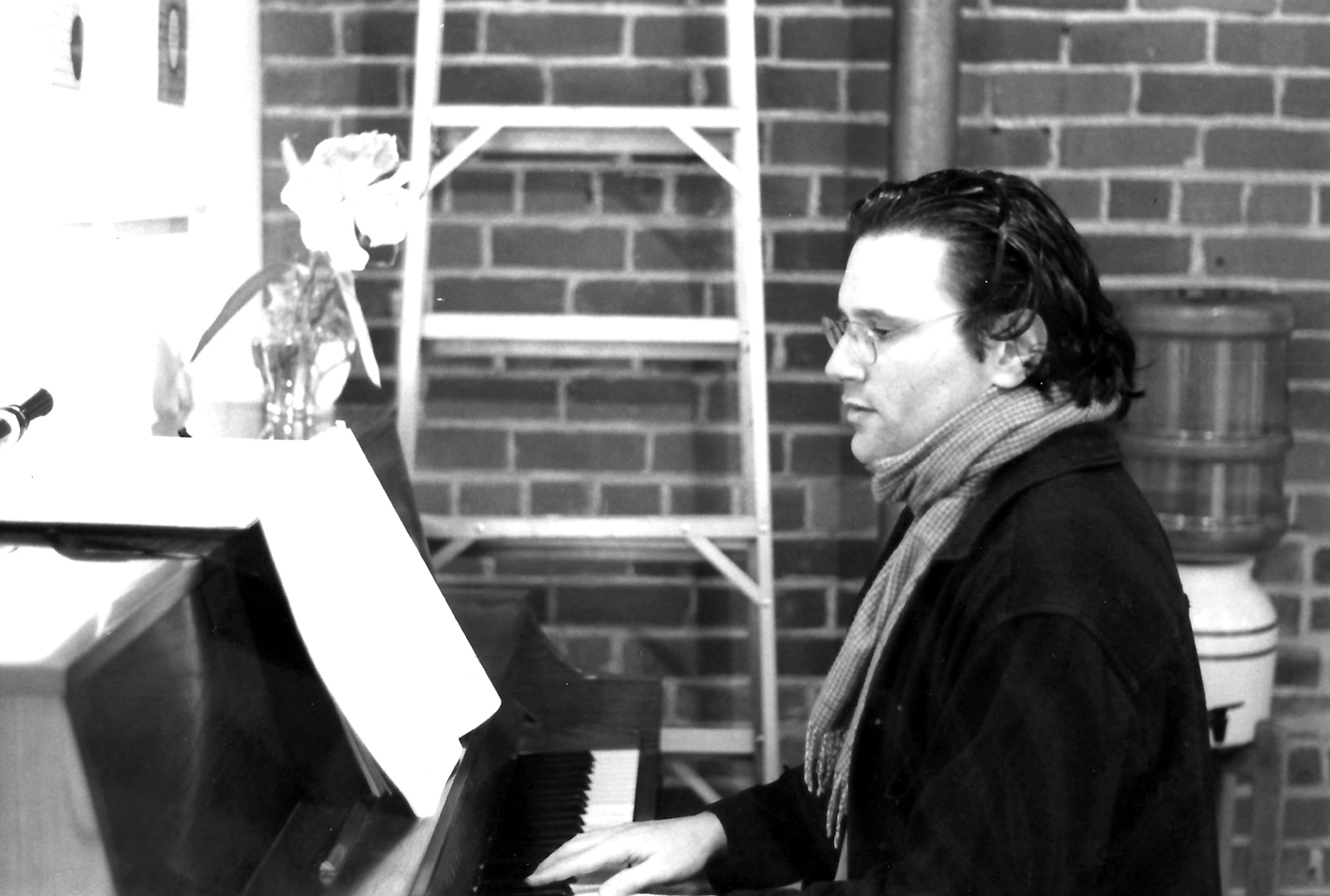 When Caio came to work with us in 1999, Paulson Bott Press was located in its inaugural space in Emeryville. We rented him a small upright piano.  Since our studio was so small, we put the piano in our hallway.  Caio arrived carrying a leather bag, which he emptied it on the artist's table. We marveled at his vast collection of implements, ranging from his handmade golden-mean calipers to everyday kitchen gadgets like pasta cutters and forks. Caio worked quickly, and it was all Pam and I could do to keep up with him. Printing an etching is slow, so while Caio waited to see his next proof, he would walk to the hallway and play a sonata or two.  He enjoyed discovering the printing process, and he was adept at creating his own vocabulary for our techniques. Terms like "spitbite" and "softground" he renamed "hamsterbite" and "softpound," and although we laughed, we all knew exactly what he was talking about.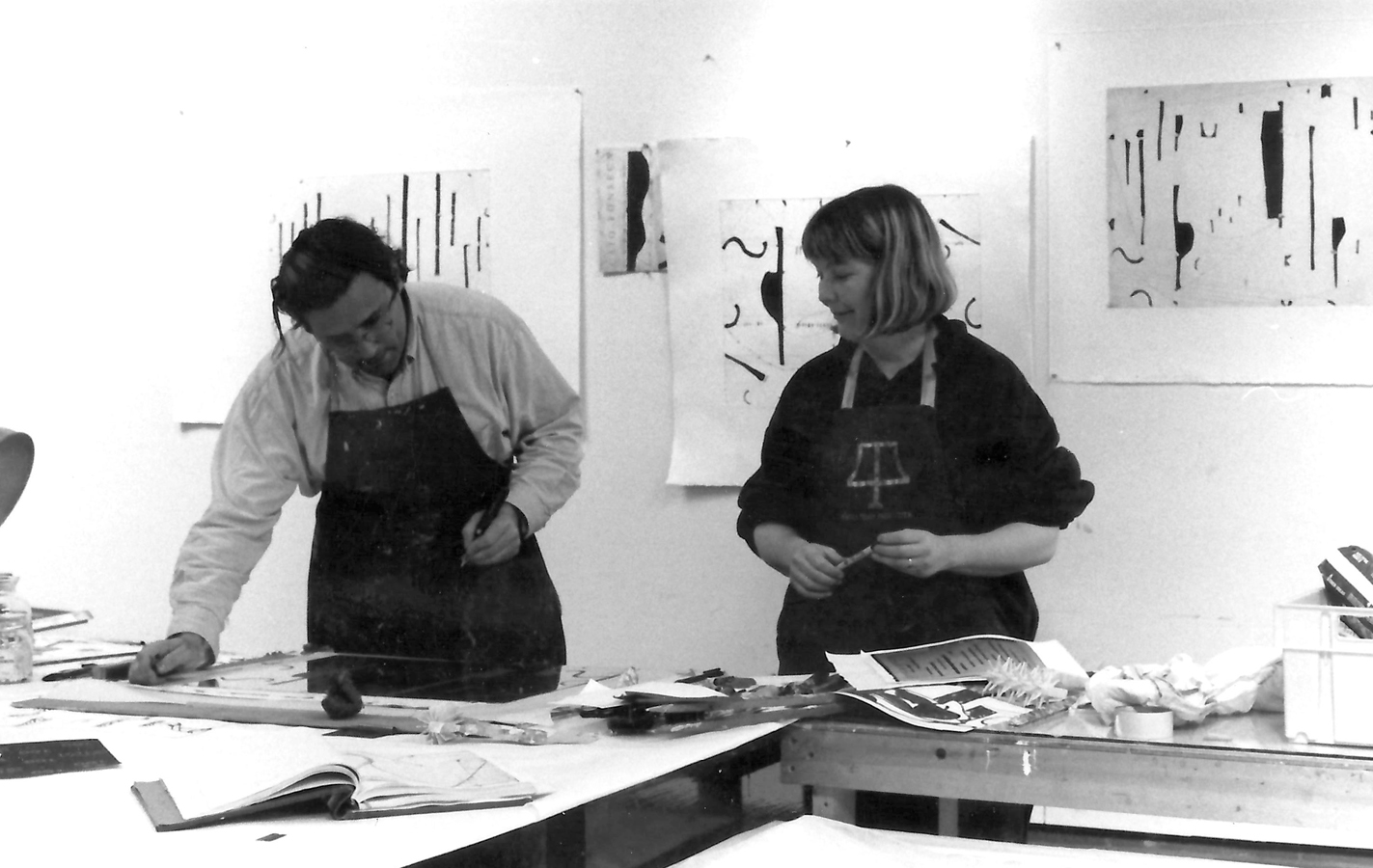 We have been collaborating with him to make etchings for almost twenty years and have produced a large body of work rooted in formalism. Caio continually draws inspiration from his musical background while his study of color and composition evolves. The most recent prints are forthright and vivid, signifying a strong direction within his oeuvre and within our work together.